There are tons of other options available for bloggers rather than Google AdSense to monetize their blogs using adverts. One of the most famous and widely used advert networks is PropellerAds. 

One key feature that is required to categorize an advert network as the best is that it should serve the best features to both advertisers and publishers.

PropellerAds is one of those networks which are widely popular for timely payouts and being termed as one of the fastest growing in the market.

PropellerAds, unlike many others, offers a lot of different types of ads to earn profits from, such as PopUnder ads, Native Direct Ads, Push notification ads, Banner ads of all modern standard sizes, interstitial mobile ads and so on.  

One of the key reasons why PropellerAds is called the fastest growing in the market is that it has a ton of traffic deriving from many different geographical locations, and not just from The United States and Canada.
PropellerAds Review: How to Setup PropellerAds
PropellerAds is one of the easiest to use and is very easy to setup. Even for new bloggers, this ad network will take almost no time to get started.

First of all, like in any other network, register your account on PropellerAds, as a publisher we suggest
After successfully registering your account on PropellerAds, your publisher account will get activated
Now, log into your PropellerAds dashboard
Look for the button that says Site, click on it and then click on Add new Site
Now, here comes a little tricky part. Here you have to verify that the domain you've entered is under your ownership. This can be done in a couple of ways
One way is to add the verification tag on to your website
Another possible way is to upload the verification file to your root folder via FTP
After the above, your domain ownership will be verified and now you can start using PropellerAds to monetize your blog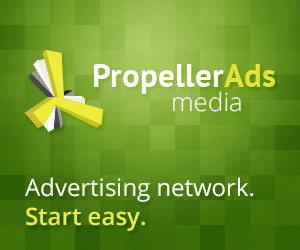 Google AdSense is undoubtedly the most popular and most in-demand advert network out there. People and bloggers from around the world go for Google AdSense without any other option in mind. But in recent years, some advert networks are giving a good run for money to AdSense, thanks to the innovative and new services offered by them.

One of the reasons people shift to PropellerAds from AdSense is that apart from on-click ads and banners ads, PropellerAds also provides some amazing slider ads, sponsored links and similar new ad formats.

And PropellerAds has acclaimed some good name in niches like movies, dating, finances, software and games. Also, if you have visitors from countries like India, South Africa and Singapore, then PropellerAds should definitely be given a try.

Unlike Google AdSense, PropellerAds actually pays you on every 1,000 ad impressions, as PropellerAds is actually a CPM ads network. So even if the visitor doesn't click on your ad, you still get paid.
And to top it all, PropellerAds is one such ad network that can be used along Google AdSense on the same page! That means, you can run Google AdSense along with PropellerAds without anyone of them getting disturbed. Isn't that awesome?
PropellerAds Review: Rules and Requirements for PropellerAds
Many ads networks these days have certain requirements from publishers to get started with their program, which somehow makes the process more complicated. But that's really not the case with PropellerAds.

At PropellerAds, no minimum traffic requirement is demanded for you to get started. PropellerAds even allows the newbies and websites without heavy traffic, unlike most of the advert networks
PropellerAds dosen't allow pornographic, gambling, privacy threatening and illegal download websites to get monetized through PropellerAds
Also, PropellerAds has a very strict policy against fraudulent and fake clicks. They take all the legal and prosecuting steps in order to make sure that no illegal activities generate clicks on PropellerAds
Payments are supported by using the following platforms : Credit Card, Payoneer, PayPal, Bank transfer, E-payment and Webmoney
Minimum Payout for PropellerAds in just $25 for new publisher, which is awesome!
Pros of PropellerAds
Super easy to get started with. Accounts are activated almost instantly. You can even add more than one domain names to monetize
Reporting features you get in the dashboard are super simple to understand and work with. You get details of your progress and earnings in tabular and chart formats and all that in real time!
Revenue sharing? You get a massive 80% ad revenue share on PropellerAds
Maximum revenue is generated for entertainment websites
Also, a referral program is also there to hep you earn a little more, that is 5% of your referrals ad revenue- for a lifetime!
You even get to monetize your 404 pages and also can create full-screen ads
Cons of PropellerAds
The pop-up ads and pop-under ads can annoy a lot of visitors
It does supports low traffic websites, but it is suggested to increase a good traffic on your website before applying for PropellerAds, as you can't make much money out of low traffic on PropellerAds
Apart from Pop-under and Pop-up Ads, other ads types on PropellerAds have not been noticed to generate much income
Conclusion
Just like Google AdSense, you need serious traffic and genuine content on your blog or website to make serious money on PropellerAds. 

So should you go for PropellerAds or not? You should if you have a new blog and if you don't wanna jump right onto those big players in the advert game. Also, if your current advert network is not helping you make good conversions, then there's no loss in going for PropellerAds for a change.

PropellerAds review comes to an end. We hope you like this unbiased and well researched review of a very fast emerging advert network PropellerAds. Looking for more such amazing ad networks? Then do check out Best Ad Networks for Bloggers: Top 8 Ad Networks of 2019
Happy Blogging!